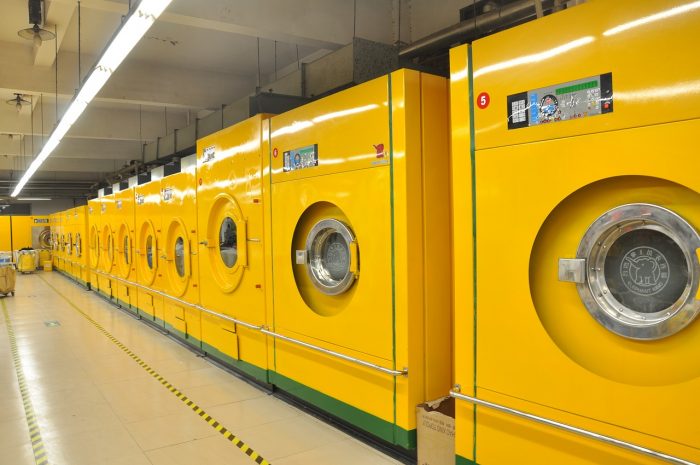 If you own an aging laundromat, you can simply update its machines, or you can make decisions that set your establishment apart from its competitors. By doing that, you might enjoy positive results that you never dreamed a laundromat could provide.
Rename It
Your business might have stayed open for decades as a turnkey operation with a simple name. Consider rebranding it. Start by coming up with a new name. Instead of, for example, Main Street Laundromat, switch to The Mat on Main or another catchy moniker. People in your community will start talking about your name change, and plenty of their words will be positive.
Reinvent It
Rebranding goes further than choosing a new business name. Updated logos, fresh color schemes and new slogans can also help businesses reinvigorate local interest. While you consider those changes, try to imagine other revenue channels that might fit in your establishment. Do you have room for pool tables or a bowling alley? Would a laundromat with a bar work in your area? Be creative!
Refurbish It
Of course, all of your updated coin-op's machines must function. Replace all the worn laundromat parts you can, thoroughly clean your store and repaint the walls in rich colors. Do everything you can to ensure people will recommend your modernized laundromat to friends.
Relaunch It
Borrow a page from tech brands. Relaunch your laundromat. Set a date for a new grand-opening event. Before that date, complete all of your refurbishment-related list items. Also, create a web presence for your new brand. Find an experienced designer to help you create a sleek site that uses a one-page, responsive theme. Seek that web expert's advice about online advertising optimized to target local consumers, as well.
Push yourself to do everything you can to reboot your laundromat on an efficient and effective schedule. You could soon enjoy a larger pool of patrons. And that possibility should keep you motivated throughout your laundromat's substantial modernization.