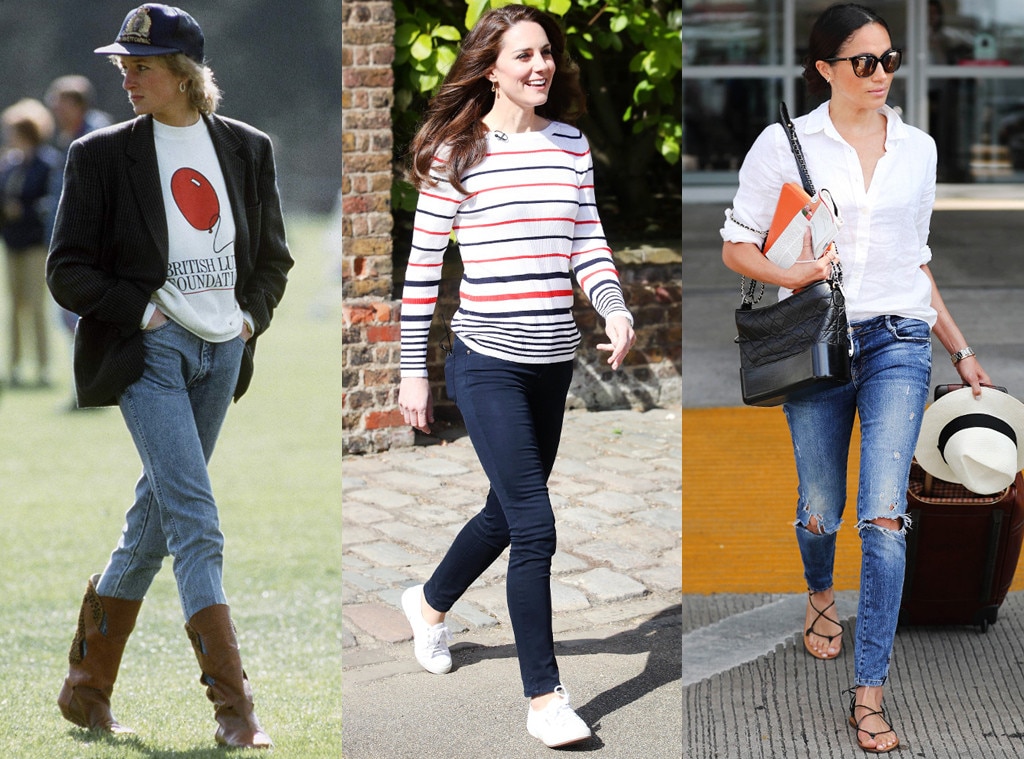 It's official: Meghan Markle will be a full-fledged royal…then again, she's already been dressing like it.
There's been many a time when Kate Middleton took style cues from Princess Diana. It makes sense that the 35-year-old royal would be inspired by her late mother-in-law's style evolution. Even though the Hollywood actress' engagement portrait ensemble differed from Kate's, there were plenty of times when the Duchess of Cambridge and Meghan arrived to separate events in seemingly similar looks—they are future sisters-in-law, after all. Not to mention, Meghan's engagement ring features a few of Diana's diamonds. What we have here is past, current and prospective royals who have worn similar trends—even decades apart.
But, it's how these women wore these styles differently that really matters—it lets us get a sense of how they personally expressed themselves through fashion.
Here, you'll find how Diana, Kate and Meghan's senses of style compare. Sure, we could find instances of them all wearing a midi-length, red dress and awe in the adorable coincidence. Or, we can look at how Diana's neckline differs from Kate's, and infer that Prince William's mom didn't mind breaking etiquette rules. Or how Meghan likes more modern silhouettes, while Kate prefers a traditional-feminine blend. It's not just about their outfits either; we also looked at the occasions in which them they wore them to—because what you wear to Wimbledon says a lot about you.
MOST RISQUÉ OUTFIT
You can't consider someone's fashion perspective without looking at their most risqué look. For Diana, hands down, it was this iconic chiffon LBD she wore to the Serpentine Gallery in London. Beyond the body-con silhouette and low neckline, this particular piece was dubbed "The Revenge Dress," as Diana wore it on the same night that Prince Charles confessed his affair with Camilla Bowles. Not as sexy but noteworthy, Kate wore an off-the-shoulder, Bardot-style dress to the National History Museum in London. The vertical and horizontal details worked together to accentuate every curvature of her body. It's not as form-fitting as her mother-in-law's LBD, but risqué for the duchess nonetheless. Not counting her Deal or No Deal days, you don't see Meghan in many revealing outfits these days. If one part of her body is exposed, the rest is covered up. If her hemline is short, her top half is hidden. She is a master of balance.
BARBOUR
When it's cold, many UK-based women rely on a British staple: a Barbour-style jacket. These coats are often water-resistant padded with a quilted lining that lends just the perfect amount of structure to a piece of outerwear. Interestingly, Diana wore a long iteration that matched the length of her dress. Even in the cold of the Western Isles, she wore stockings and kitten heels—very conservative but standard for a princess on duty at the time. Fast forward to modern day when Kate wore a shortened version. However, she brightened up the traditionally green or gray staple with a colorful bandanna. While visiting the Great Tower Scout Camp, the duchess was clad in warm jeans and wellies—how royal wardrobe expectations have evolved! Then there's Meghan, an American, who also wore wellies and a gray coat while visiting Prince Harry at his Kensington Palace cottage. Although, unlike Kate, she wore an edgier beanie sans brim. Perhaps she was trying to blend in with the locals?
DENIM
Those faded, almost acid-wash-like jeans look good on Diana. Judging by how high her pockets were, we can assume they were high waisted. Paired with a cap, graphic sweater, blazer and cowboy boots, this amalgamation would be the ideal street-style outfit for any fashion blogger nowadays. It's the perfect balance of proportions and randomness. Kate, on the hand, likes to keep it simple with her denim—her pants in this photo are one color and wash, and with the skinny fit, she can match it with anything. If you're a Hollywood actress, like Meghan, you're expected to be somewhat on-trend, and there's nothing trendier than a pair of distressed denim with holes in it. How to mature this look? Tuck in a white button-up for a sophisticated touch.
WIMBLEDON EYEWEAR
They have different face shapes, so of course they have different preferences in sunglasses. While each were at Wimbledon, Diana opted for a crisp white suit, pearls but modern (for that time) circular sunglasses. Kate kept things more casual in a polka-dot sun dress but also glam with the gold accents in her subtly cat-eye, oversized sunnies.
HAT PREFERENCES
The Brits love their hats and fascinators. It seems like Diana had a penchant for large, wide-brim iterations, always covering her face from the sun. Kate, although she's been spotted in a diverse range, tends to wear smaller, more delicate toppers, which is not only trendier these days in high society but way more practical when you want to look around. There isn't anyone more practical than Meghan, however, who when she's not wearing a baseball cap to stay incognito from the paparazzi, loves to wear a beanie to keep her head warm.
OFF-THE-SHOULDER TREND
There was no trend more ubiquitous this year than the off-the-shoulder top. Diana wore an ethereal gown designed by Bellville Sassoon to the celebration of a museum exhibition—she looked like a short-haired Cinderella. Her metallic, patterned clutch, however, created a nice contrast to the feminine gown, giving sense that this woman was way more fashion-forward that her pearls and frilly top led on. In a bolder iteration, Kate looks summer-perfect at the Queen's birthday party in Berlin. Although this look is quite contemporary, even sexy, for the duchess, she still looks put-together with every hair strand in place. On the other hand, Meghan went for a more modern take on the trend, keeping her lines clean and structural. She's not afraid to mix in bold colors with her accessories.
NECKLINES
The necklines say it all! Diana's keyhole detail perfectly balanced out her severe shoulder pads. It was sexy (for the time) in the most subtle way. The way Kate's V-neckline ends right under her chest is the exact detail needed to complement the bell sleeves—you can't get better tailoring than this. And Meghan's red-hot dress can be considered conservative by Hollywood standards, but she still looks vibrant and youthful with the mid-calf hemline and pointed pumps.
So what did we learn? The Duchess of Cambridge has contemporary, practical taste executed with the best tailoring and attention to detail. She's adored and constantly in the public eye, so every facet of her wardrobe—even if it looks so simple—is planned.

As a Hollywood actress, Meghan is a little trendier than her royal counterparts but also surprisingly conservative given her industry. There's a sophistication and modesty to her ensembles, but they also show high-fashion styling techniques, like texture mixing and proportion balancing. However, you can still catch her in leggings and a baseball cap in public—she still has that freedom.
Finally, there's Princess Diana, who was already considered a fashion icon. Even when abiding by strict wardrobe etiquette, Diana found ways to push the boundaries of high-society fashion and put a forward-thinking spin on any ensemble. She was a risk-taker when it came to fashion…and life.